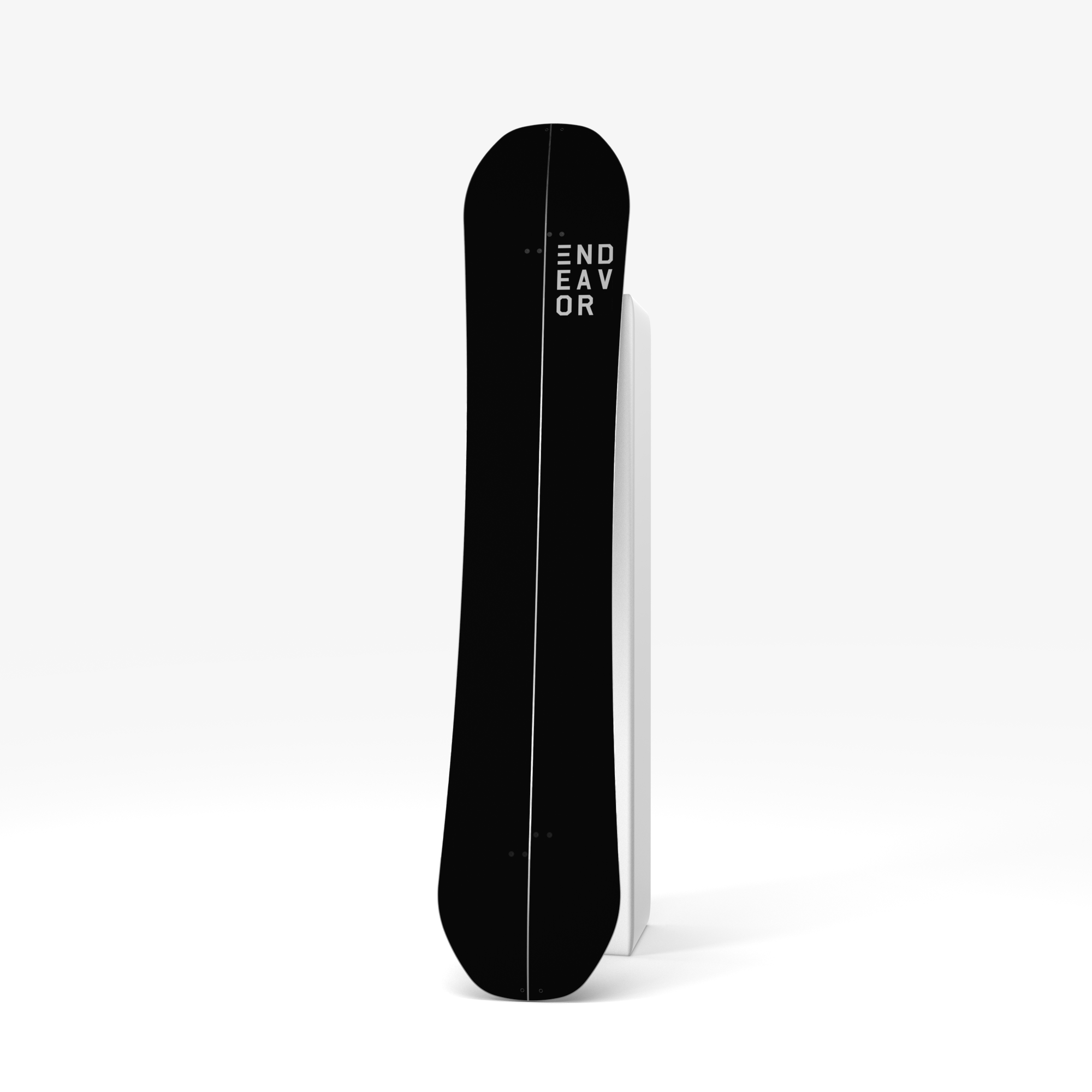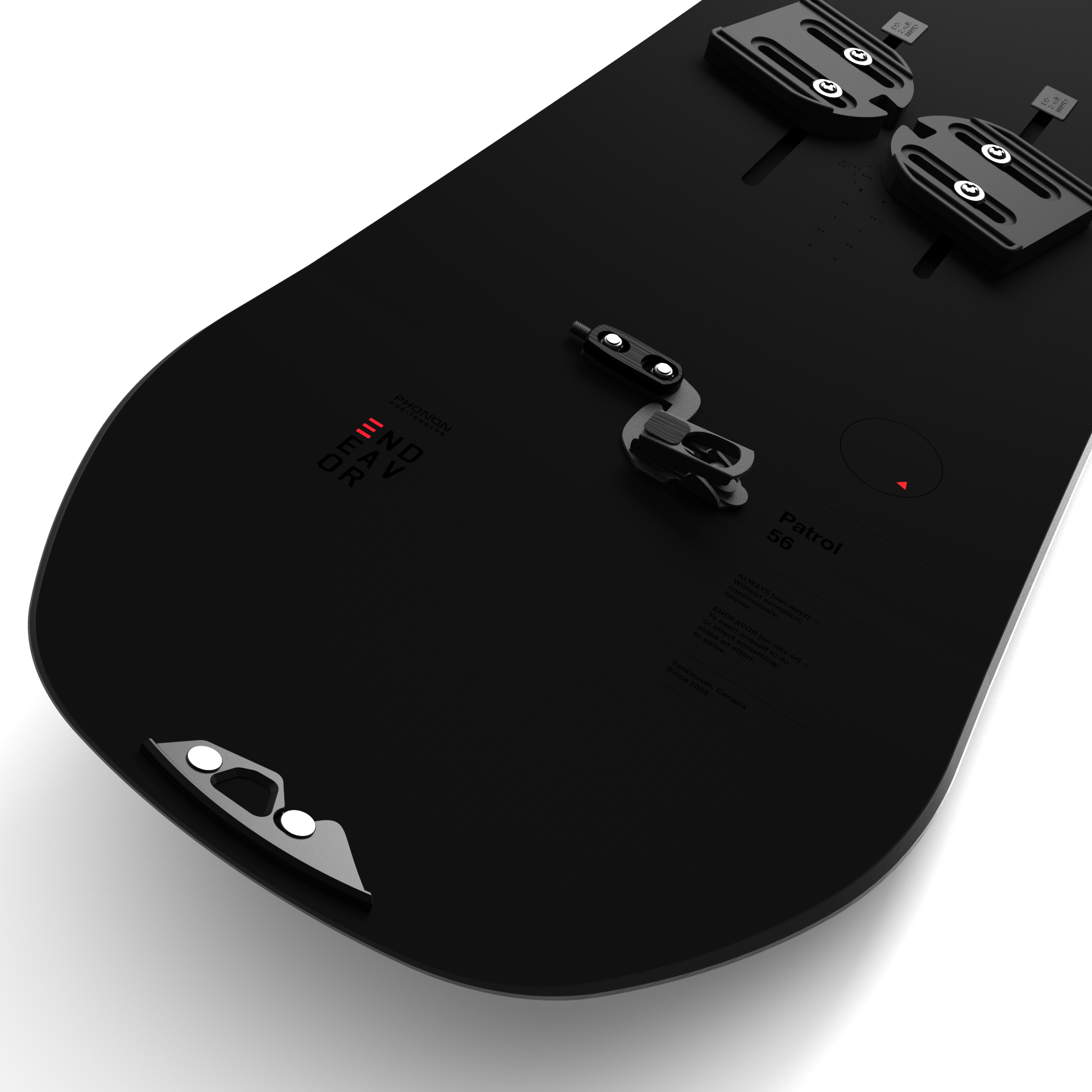 Endeavor Patrol Legacy Splitboard
Tested and proven in the backcountry of British Columbia
Description
The Patrol is our flagship splitboard proven in the back country of British Colombia and worldwide. The Patrol's stiffer flex provides stability hiking up and a lively feel when riding down. The Channel ensures quick binding positioning adjustments and a simple switch between ride and hike modes. The Patrol Legacy is outfitted with our Phonon Pre-Tension Fibreglass topsheet, an innovation in snowboard construction that harnesses elastic energy through continuous lamination, supercharging the board's 'pop'. Construction is streamlined by combining carbon and fiberglass with resin, eliminating the need for the traditional plastic topsheet and UV Lacquer. The result is a super lightweight and powerfully reactive board built with less materials. 
Due to the unique manufacturing process of the Phonon Topsheet, subtle variations and imperfections in finish may occur which give these boards their unique character.
Features
Flex: Medium/Stiff
Terrain: Powder
Camber: Hover
Shape: Directional Twin
Core: Poplar + Paulownia w/ Birch Reinforcement
Base: Dura Surf 4001 Sintered
Fibreglass: Phonon Pre-Tension
The Channel
Smoothride Sidewalls
Endeavor Patrol Legacy Splitboard
Size Details
143cm
147cm
153cm
156cm
159cm
160cm Wide
162cm
165cm
Contact Length (mm)
886
906
946
962
980
1002
1021
Effective Edge (mm)
1048
1087
1131
1155
1177
1187
1201
1224
Nose Width (mm)
275
276
291
295
299
308
303
312
Waist Width (mm)
230
234
247
250
253
263
256
268
Tail Width (mm)
272
273
288
292
296
305
300
309
Sidecut Radius (mm)
7300
7500
7800
8000
8200
8414
8400
8600
Taper (mm)
3
3
3
3
3
3
3
3
Stance Width (Inch)
17-23
17-23
18-24
18-24
18-24
19-25
19-25
Setback (inches)
0
0
0
0
0
0
0
0
Rider Weight (lbs)
70-100
100-155
110-155
120-170
140-190
150-200+
150-200
150-200+
Rider Weight (kgs)
32-45
45-68
47-68
54-77
65-85
68-90+
68-90
68-90+
Graphic Inspiration
Our seasonless Legacy Collection is a manifestation of the timeless simplicity that has become synonymous with Endeavor. The stripped back aesthetic focuses on the purity and simplicity of the ride whilst the graphic hits are inspired by the iconic industrial designer, Dieter Rams' design ethos of "Less But Better" .
Construction
1 - Phonon Pre-Cured Fibreglass Topsheet with 11 Carbon Stringers
2 - Pre-Cure Fiberglass
3 - The Channel
4 - Poplar / Paulonia / Birch Lightweight Wood Core
5 - 95A Smoothride Seamless Urethane Sidewalls
6 - Rockwell 48 Stainless Steel Edges
7 - Triaxial Fiberglass
8 - DuraSurf 4001 Wax Infused Sintered Base
Reviewing

Endeavor Patrol Legacy Splitboard

Where have you been riding this board? (select all that apply)

Resort/Groomers,

Backcountry/Powder

Fits like a glove! Almost identical to the Archetype!

I spent the past two seasons on the Archetype 158cm before spending the last 4 days riding on the Patrol (159cm) and it handled just like the Archetype. However, I'm sure the Archetype would have a little leg up in the ever deep pow. 100+% satisfied with the Patrol & Archetype!

Reviewing

Endeavor Patrol Legacy Splitboard

Excellent Powder Board

This board was recommended by a friend who had his own . I have only taken it out once but am so pleased with how it performs ....can't wait to take it to the backcountry

Reviewing

Endeavor Patrol Splitboard

Where have you been riding this board? (select all that apply)

Backcountry/Powder

Splitboarding in Orford, QC

So wonderful, I can finally keep up with my girlfriend on her backcountry skis. Nothing like waking up at 6am and splitboarding up a mountain and enjoying the dawn coming down. Having a coffee and the going to work at home.

Reviewing

Endeavor Patrol Splitboard

Patrol Split

Haven't had a chance to ride my split yet. Binding seem to be sold out everywhere. Really looking forward to some slack country and touring, but I shall wait!

Reviewing

Endeavor Patrol Splitboard

Patrol Split 159

1st, great looking board and feels well made. Chanel makes set up very easy. Very fun powder board; very nimble, slashy and good float. Definitely pleased.
Reviews Loaded
Reviews Added